Celebrate Thanksgiving with the warmth and joy of a traditional feast, without the hassle of cooking and cleaning. We've compiled a list of restaurants in Flagler County that are open on Thanksgiving Day to serve you and your loved ones a delectable holiday meal to remember. Let the culinary experts delight your taste buds with a diverse range of traditional Thanksgiving dishes, as well as creative twists on classic recipes. Enjoy the festivities without the stress of preparing a feast and cleaning up afterward. Leave it to the professionals to handle everything while you relax. Share precious moments with family and friends without the distractions of cooking, allowing you to focus on the real reason for the holiday – gratitude and togetherness.
Beach Front Grille
Celebrate Thanksgiving at Beach Front Grille on November 23rd!
Join us for a delightful Thanksgiving feast with a stunning beachfront view. Our menu is filled with delicious options that will leave you feeling grateful. Here's what you can expect:
Turkey
Baked Ham
Roast Beef
Shrimp Cocktail
Baked Ziti
Stuffed Yellowtail with Spinach Florentine
Mussels Scampi Salad
Rolls and Butter
Stuffing
Green Bean Casserole
Mashed Potatoes
Sweet Potato Casserole with Marshmallow Topping
Pumpkin Pie Pudding & more
All of this for just $41 per person!
Seatings are available from 11 AM to 6 PM, with the last seating at 5 PM.
386-693-4939
Gather your loved ones and a scrumptious Thanksgiving meal. Make your reservations now and let's give thanks together at Beach Front Grille!
Funky Pelican
Thanksgiving: Thursday ~ November 23, 2023
Dinner Service ~ 11:00am-6pm
On Thursday, November 23rd, we'll be serving up a special funky Thanksgiving menu including turkey, prime rib, creme brûlée cheesecake, & fall themed cocktails! Our regular menu will also be available. 🙌
No reservations required. *Prices are subject to change*
Golden Magnolia Resort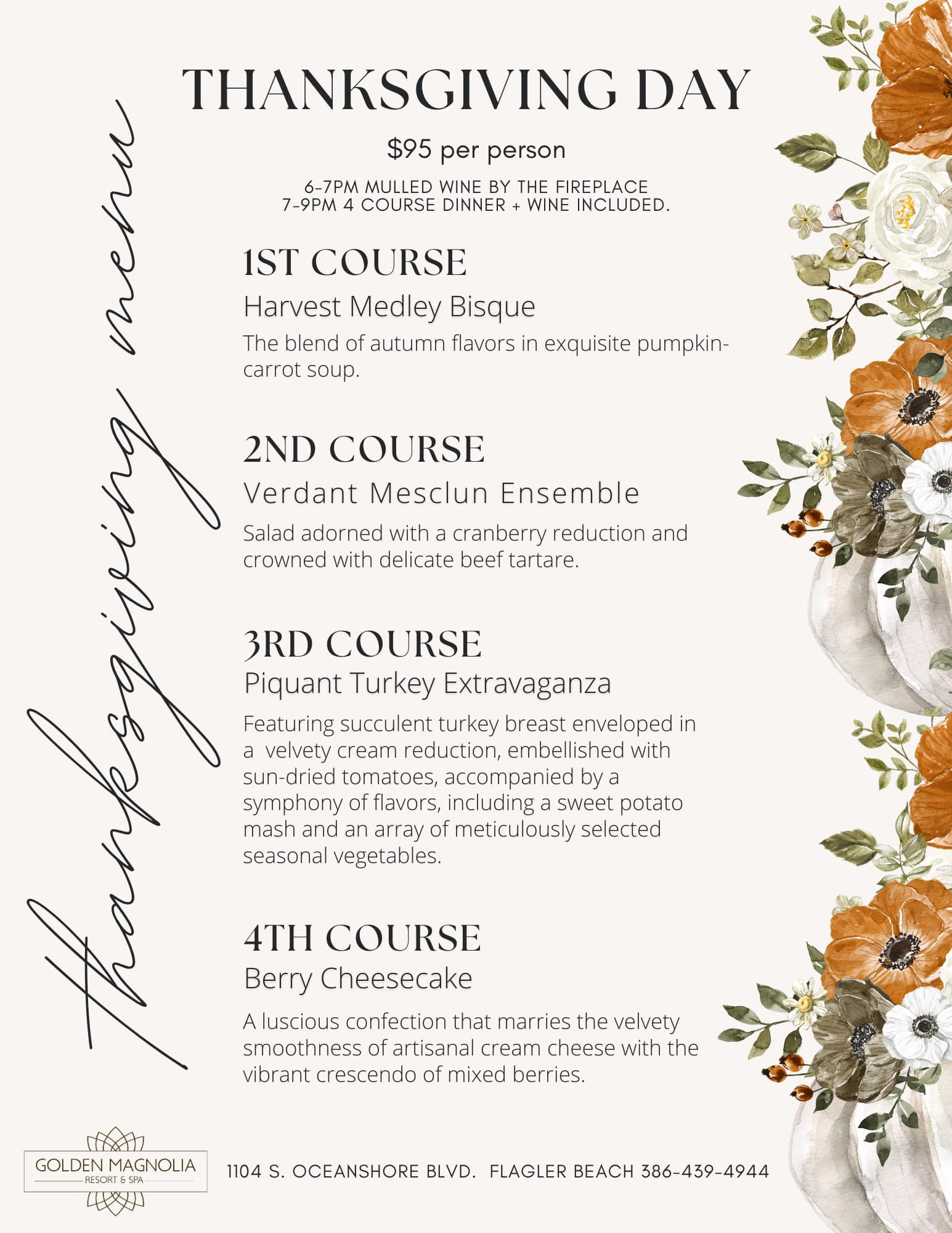 We're hosting a delightful dinner filled with love, laughter, and delicious dishes.
Let's gather and give thanks together on November 23rd at Golden Magnolia Resort & SPA.
Your presence will make our celebration complete. Can't wait to share this special day with you!
For reservations call at 386-439-4944/ 386-585-0897 or text us infogoldenmagnolia@gmail.com
Hammock Beach Golf Resort & Spa Thanksgiving To-Go
Staying in for the holiday?  Let our culinary team at Hammock Beach Golf Resort & Spa take care of the cooking!  Our Chef is creating all of your holiday favorites that are sure to delight everyone.  Order your full Thanksgiving To-Go dinner by Monday, November 20, 2023 and enjoy the holiday in your own home. Please call 386.246.5676 or email christine.losagio@hammockbeach.com to place your order.
Pine Lakes Golf Club
For more information, visit the website here.