Captain's BBQ is not your typical order table side restaurant. Upon entering the establishment, you are able to place your order at the counter and pick up your food at the pickup station once your food is cooked and your name is called out over the loudspeaker. Food is made to order and is hot ready for you within minutes. Restaurant dining is available as well as a to go option. Dining is available indoors or on a screened porch area that overlooks the Intracoastal Waterway. There is also a white freezer at the front of the establishment that contains bait (frozen shrimp and mullet) and a few other bait and tackle items are located on the wall behind the counter.
Locally brewed beverages are available to choose from in a cooler at the entrance of the restaurant as well as house made desserts. In addition to these items, t-shirts and hats are also available for purchase.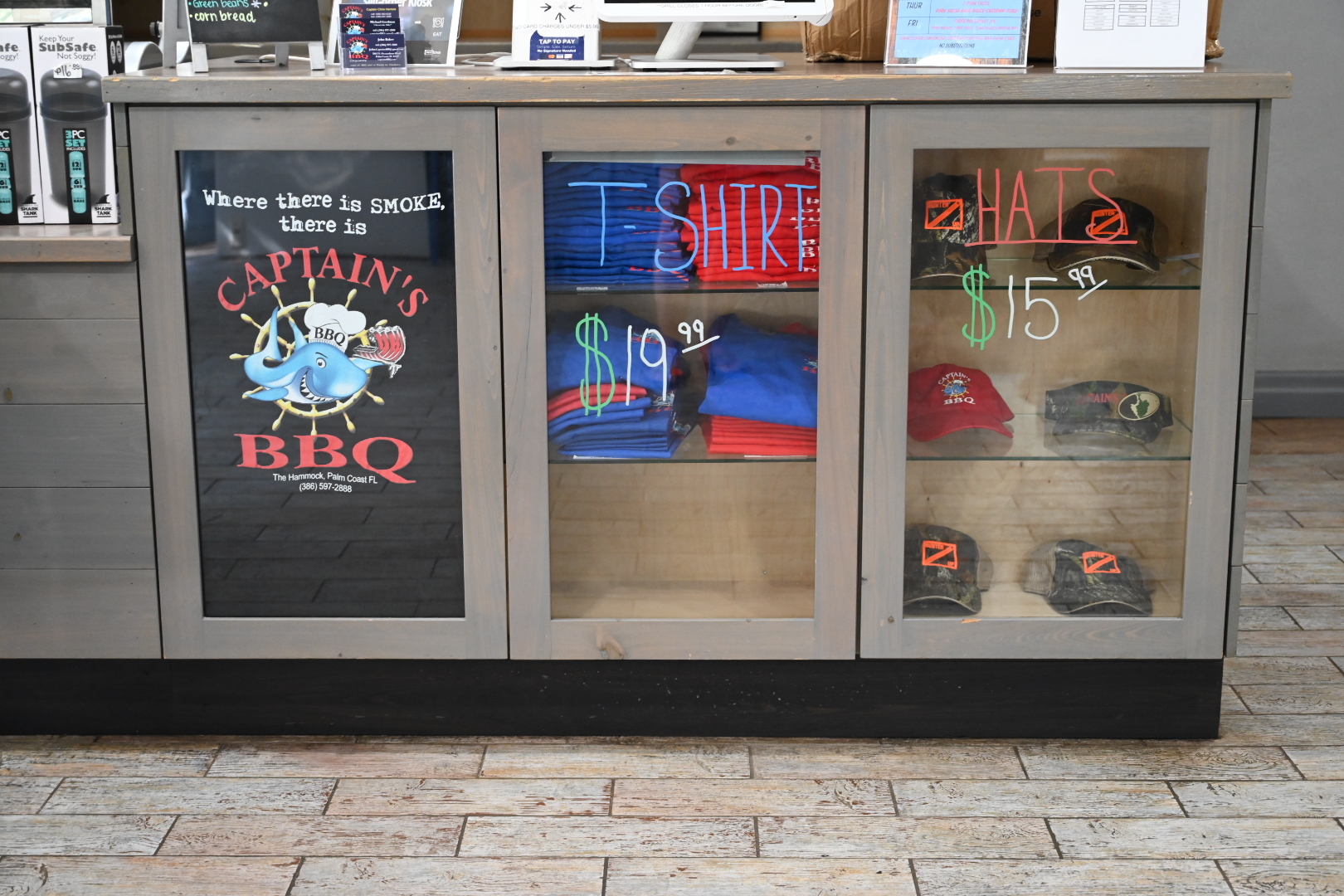 We spoke with manager John Baker to learn more about the restaurant and its operation. He walked us through the ordering process of placing your order when you walk through the doors, grabbing a seat while waiting to pick up your food at the pickup station when your name is called out, and grabbing your condiments and plasticware at the condiment table on the screened porch area.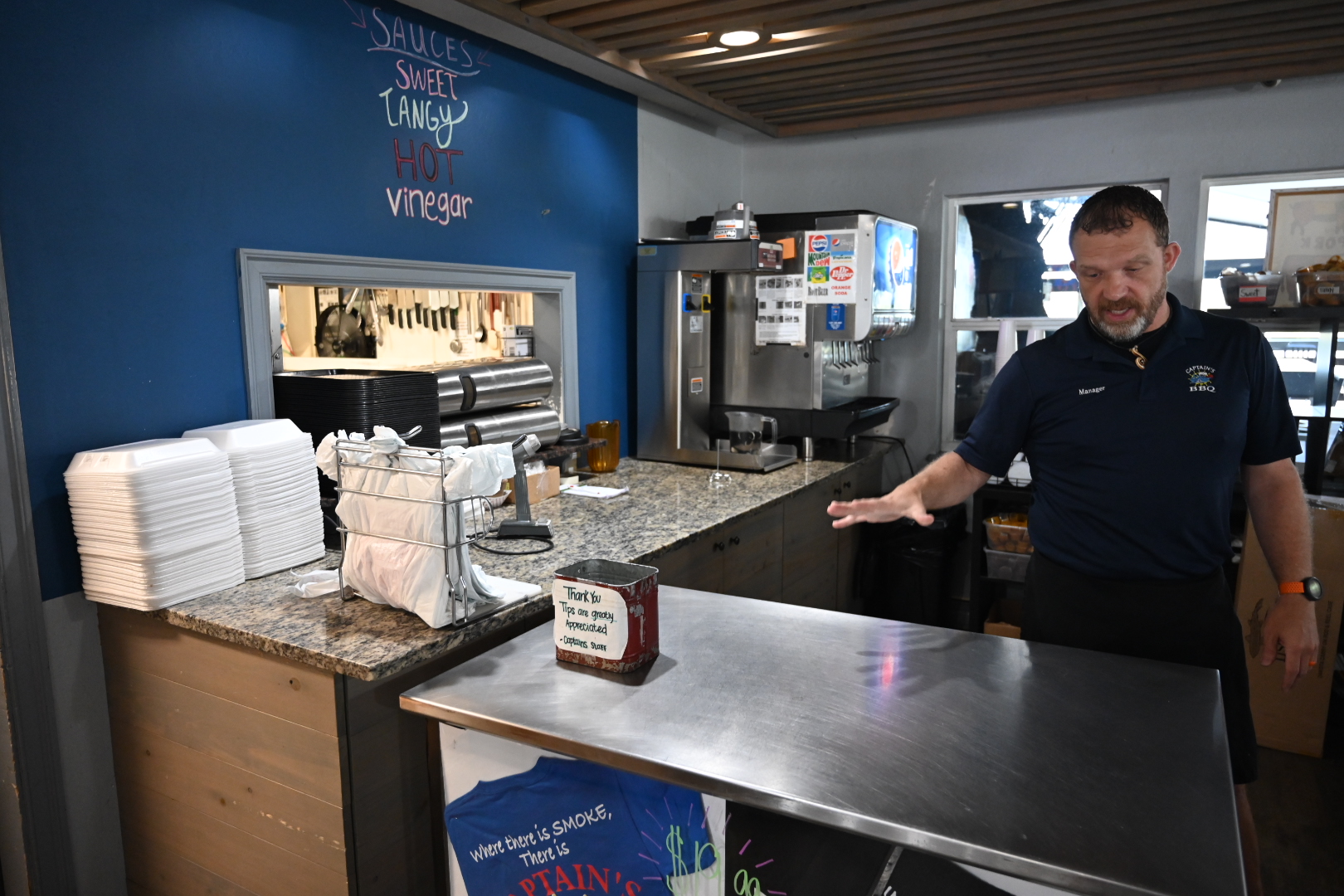 Locally brewed beverages are popular at Captain's BBQ. They have a variety of beverages available from North Carolina, Georgia, and Florida. One popular item is the Florida brewed 66 Hazy IPA. "It is a smooth drinking hazy IPA. So it takes a little bit of that bitterness out. Even though it's still the reason it's called 66. Its ibu is 66. So it's higher on the hops level, but it has a smoother finish," manager John Baker explained. "One of our employees, Mike Fletcher, is the reason we have so many great beer choices because he does a lot of homework. He will say things like, 'This one's going to be great.' Like the Brawndo from Hidden Springs Ale Works. And it is a twist. It's a sour twist off of the old Gabriel chewing gum where it was just, like, so mouthpuckering. Well, it's like that from start to finish."
If you would prefer a fountain drink or a fresh fruit tea, you can get those at the pick up station where your food is also picked up.
Their meats are cooked with no sauces, however they offer a variety of BBQ sauces to choose from. Condiments, BBQ sauces, straws, and plasticware can be found outside at the condiment table on the screened in porch area.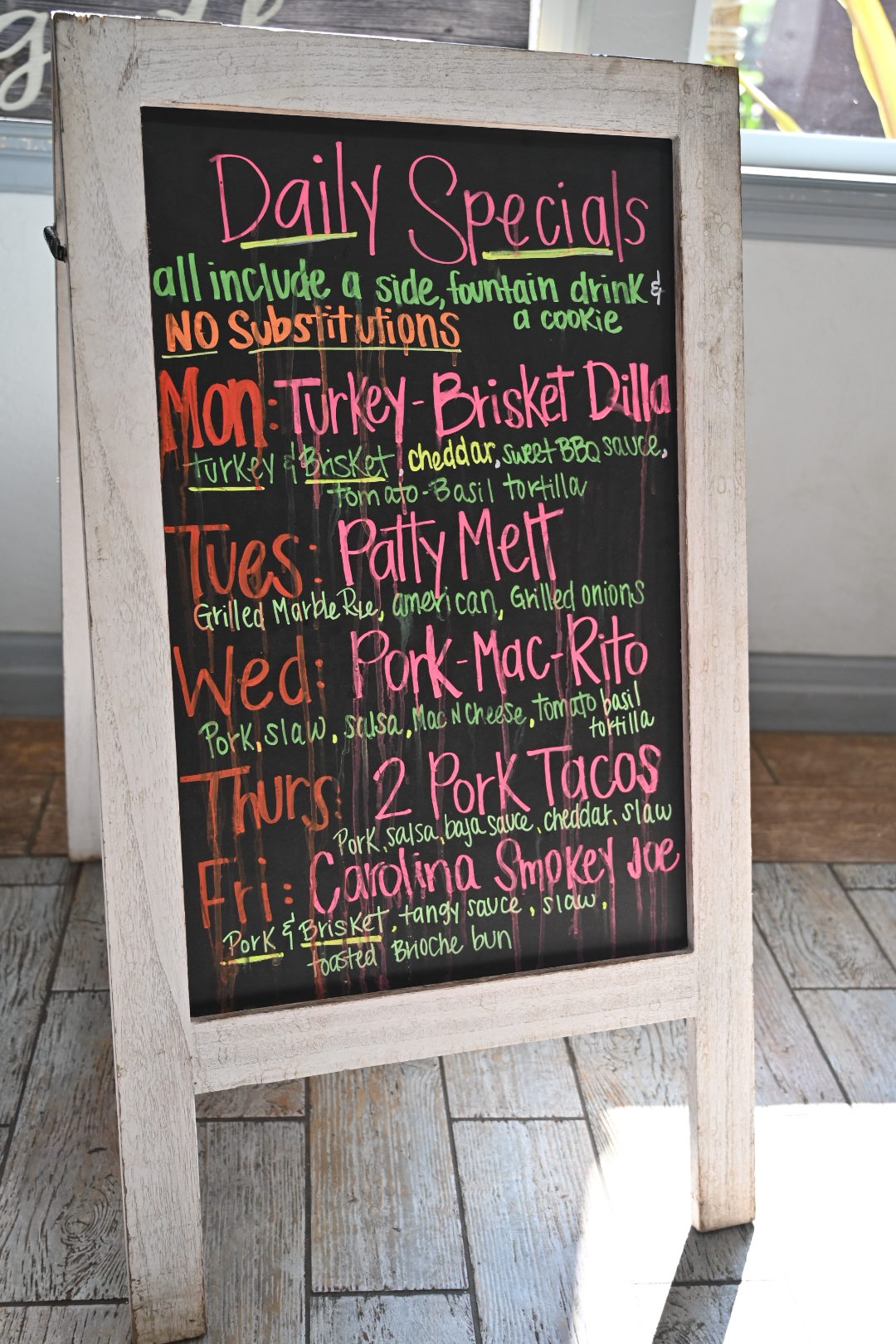 Daily specials are popular among restaurant goers. He told us that the Carolina Smokey Joe has been such a popular item and is in the process of making its way to becoming a permanent menu item. "For May and June, that item being sold one day per week, outsold 20% of our menu items that are there every day. So on the new menu is a permanent fixture. What I did is I pulled from my Texas and my Carolina roots and shoved it all in one sandwich." The restaurant is currently working on rolling out new menus which will also label which items are Gluten Free.
Their daily specials are listed on their website in addition to their full menu.
All desserts are made in house by 'Cheesecake Mike'. At 71, he has 50+ years of experience as an award winning pastry chef. One of their most popular desserts is the Hummingbird Cheesecake. In addition to the Hummingbird Cheesecake, they also serve a plain New York Cheesecake but the side or whole. Dessert offerings include Brownie Marble Cheesecake, Carrot Layer Cake, Carrot Cake Cheesecake, Chocolate Layer Cake, Chocolate Peanut Butter Layer Cake, Devil's Food Cheesecake, Red Velvet Cheesecake, Chocolate Chip Cookie Dough Cheesecake, Lemon Coconut Cheesecake, Key Lime Pie Cheesecake, Strawberry Topped Cheesecake, Chocolate Pecan Pie, Banana Bread, Chocolate Chip Pound Cake, Chocolate Chocolate Chip Pound Cake, and Chocolate Fudge Brownie.
They also offer a Gluten Free Ebony & Ivory Cheesecake. "It's a chocolate mousse, New York Style Cheesesteak stacked with homemade ganache on top and tastes like an old fashioned chocolate malt. It is phenomenal," John shared.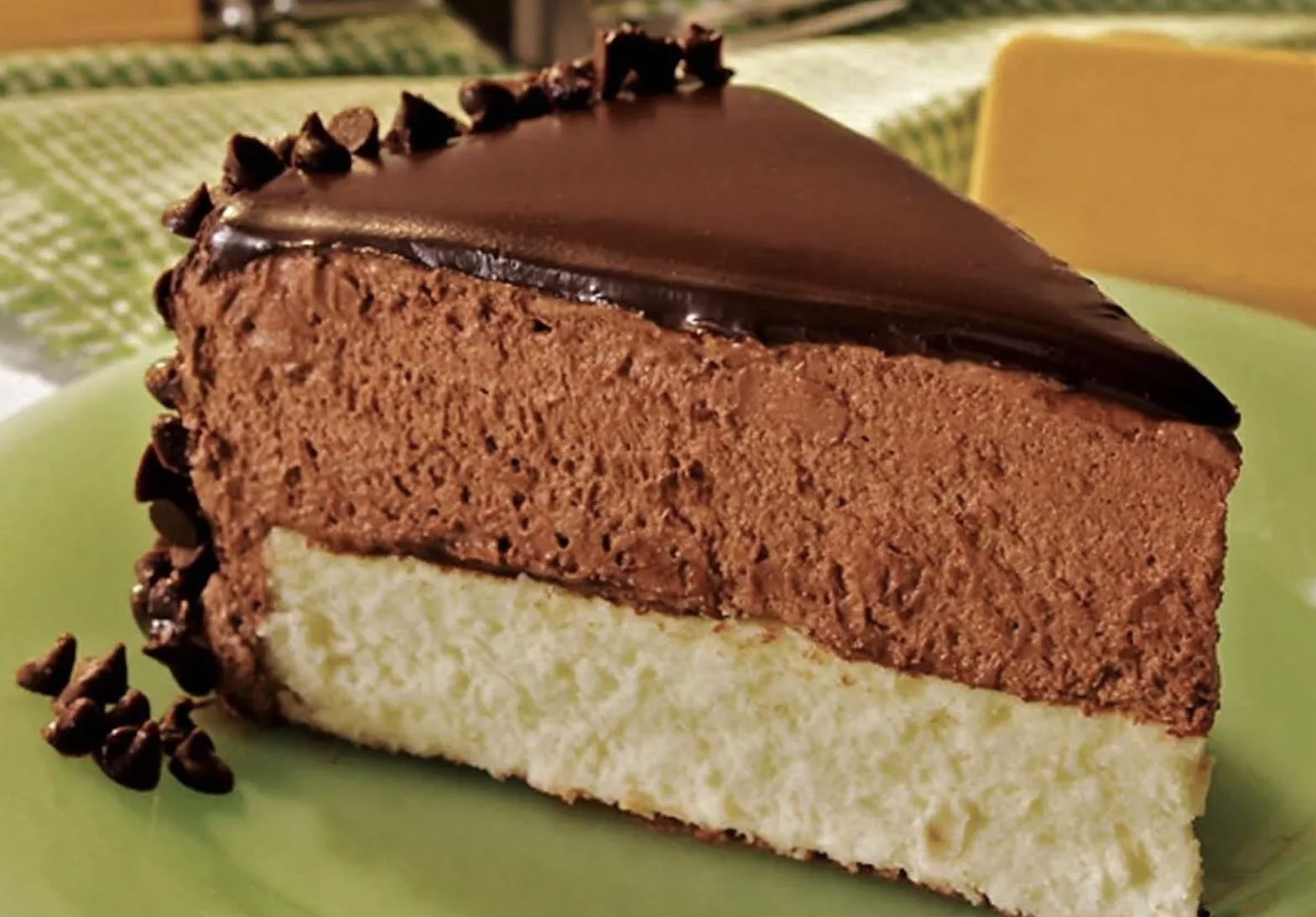 Captain's BBQ has also been partnering with other local restaurants such as The Jacked Up Bean. John said, "They're now serving our Chocolate Chip Chocolate Pound Cake, our Triple Chocolate Brownies, and our Banana Bread. I love patronizing other local restaurants. I was there this morning getting my coffee on the way in to work." They are also in the process of stocking some items at Twister's Ice Cream Cafe.
In addition to the above mentioned restaurants, Captain's BBQ also shares information with its restaurant patrons for locally owned water related businesses such as Palm Tiki Adventures and the newly opened Backwater Cat Adventure.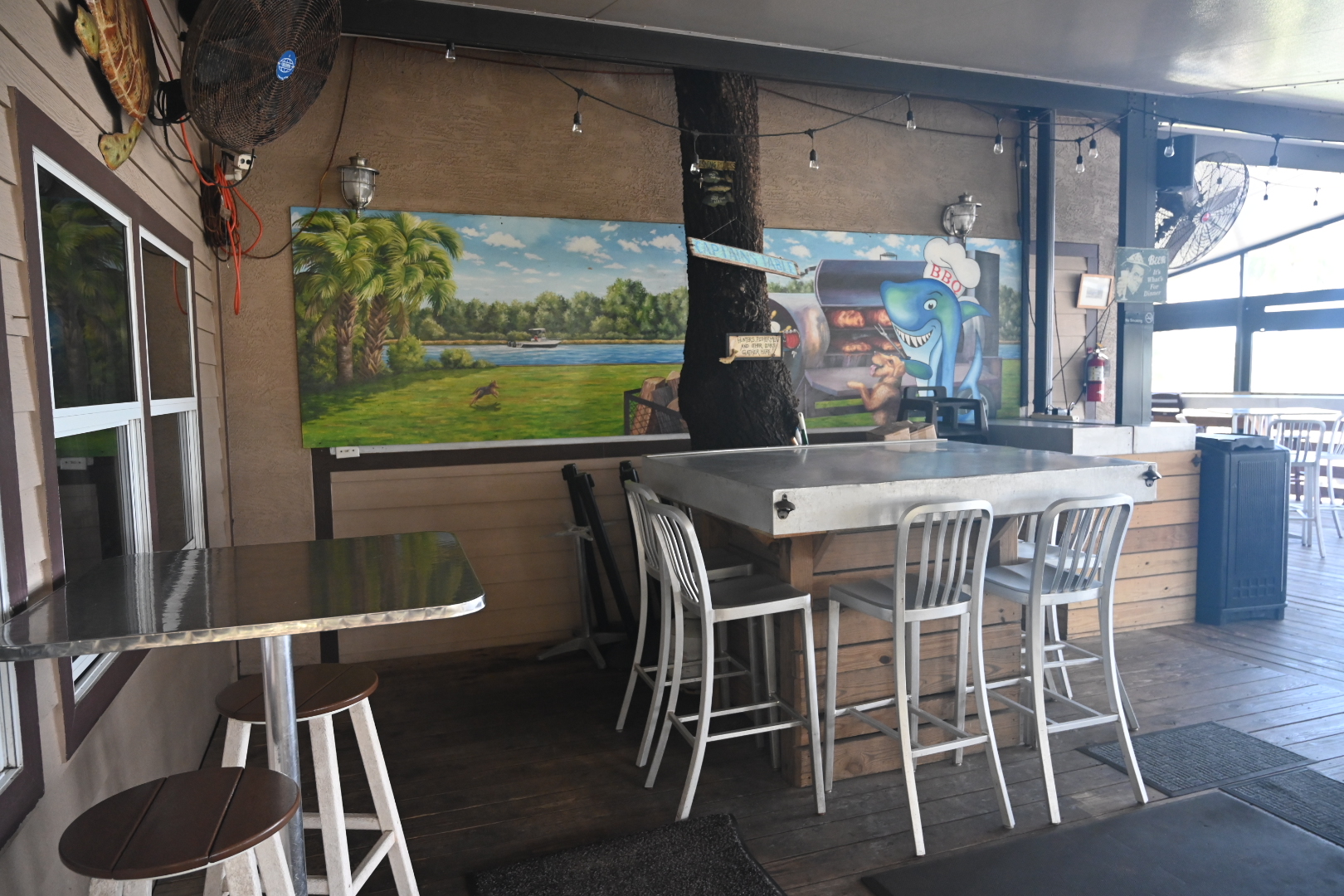 The restaurant has indoor dining as well as an outdoor dining area. The outdoor area can even be used during months with colder temperatures. "During the cooler months, we have four heaters. On the coldest days that we had this past year, I had that top blocked off with plastic and we had the porch at 80 degrees. So it was warmer out here than it was inside," John stated.
We got the opportunity to try the Reuben Sandwich with a side of coleslaw and the Slider Trio with a side of coleslaw and potato salad. Both were delicious and are highly recommended.
The Reuben comes with your choice of pulled pork, brisket or turkey, choice of cole slaw or sauerkraut, swiss cheese & thousand island dressing on marble rye bread.
The Slider Trio includes sliders with pulled pork, brisket and turkey with 2 sides.
Captain's BBQ is located in Bing's Landing at 5862 N. Oceanshore Blvd in Palm Coast. Restaurant hours are Monday – Sunday 11:30 am – 8:00 pm. Grill closes at 7:00 pm.
Have you been to Captain's BBQ? If so, let us know what your favorite thing on the menu is in the comments below. If not, what are you looking forward to trying?