Flagler County Sheriff's Office (FCSO) deputies made 10 arrests last weekend between 6 a.m. on Friday, November 17, 2023, and 6 a.m. on Monday, November 20, 2023. Over the weekend, deputies handled 694 calls for service and made 88 traffic stops.
"Two men who couldn't control their anger found themselves in the Green Roof Inn this weekend," said Sheriff Rick Staly. "You should never drive with a needle of poison in your arm or flee from deputies in a car or swim in canals in an attempt to evade arrest. Those actions will guarantee you a trip to the Green Roof Inn!"
Slumped Over Driver Arrested for Narcotics
Early Sunday morning, deputies located a male slumped over in his vehicle at the intersection of Belle Terre Parkway and Pine Lakes Parkway. The male had a hypodermic needle in his right hand and the vehicle was still in drive. The deputy reached into the vehicle to put it in park and turn off the engine. After several attempts, the male identified as Michael Priotti, awoke and refused medical attention.
Deputies located fentanyl, methamphetamine, cocaine, suboxone, and drug paraphernalia in his vehicle. Priotti was arrested for DUI for operating a motor vehicle while impaired on narcotics, Possession of Fentanyl, Possession of Methamphetamine, Possession of Cocaine, Possession of Suboxone, and Possession of Drug Paraphernalia. While being booked into the Sheriff Perry Hall Inmate Detention Facility (SPHIDF), additional narcotics were located hidden in Priotti's sock. He was additionally charged with Introduction of Contraband into an Inmate Facility. Priotti is being held at the SPHIDF on $18,000 bond.
"Not only is this man endangering his own life by taking poison, but he also endangered everyone else's lives on the road," said Sheriff Rick Staly. "Thankfully, a deputy saw him passed out and stopped him from driving before anyone got hurt."
Driver Arrested After Road Rage Incident
On Saturday morning, several callers reported to FCSO Communications that two vehicles had crashed and a physical altercation had ensued.
The incident allegedly began at Chick-Fil-A where the victim threw a cup of cold coffee into Donovan Matthews' vehicle after a verbal argument. After throwing the coffee, Matthews followed the victim's vehicle in an aggressive manner onto Palm Coast Parkway. Matthews then crashed into the back of the victim's vehicle and both vehicles stopped behind Walgreens.
Behind Walgreens, another verbal argument occurred and then both parties began to physically fight. Out of fear, the victim's passenger took an unloaded rifle out of the truck in an attempt to stop Matthews from fighting with the victim. Upon deputies arriving on scene, they observed that both the victim and Matthews sustained injuries consistent with a physical fight.
Matthews was arrested for two counts of Aggravated Battery Causing Bodily Harm, Simple Battery, Simple Assault, and Criminal Mischief. He was transported to the SPHIDF and released after posting $33,000 bond.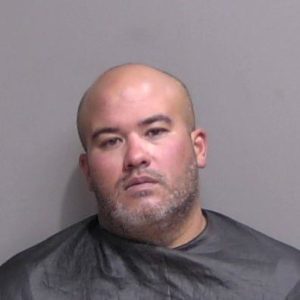 Male Arrested After Swimming Through Canals to Evade Law Enforcement
On Sunday afternoon, deputies responded to a residence on Cute Court after a victim reported that a neighbor had entered his garage and then punched him in the face after an argument. The victim and suspect were known acquaintances.
The suspect, Phillip McGraw, entered the victim's garage and approached him aggressively before striking the victim in the face. An altercation ensued and both the victim and McGraw ended up in the street. McGraw's stepfather, James Jones, then pulled up to the victim's residence and drove away with McGraw in the passenger seat.
Deputies located the stepfather's vehicle in the area and attempted a traffic stop, however, the vehicle fled from deputies. The vehicle came to a stop at McGraw's residence and McGraw fled on foot towards the canal behind the residence. McGraw then jumped into the canal and swam away in an attempt to evade law enforcement.
After swimming through multiple canals in an attempt to escape, McGraw was caught and arrested behind a residence on Crandell Court. McGraw was arrested for Burglary of a Dwelling – Occupied and Unarmed, Simple Battery, Petit Theft, and Resisting an Officer Without Violence. McGraw is being held on $32,500 bond. Jones was placed under arrest for Resisting an Officer Without Violence and was released after posting $500 bond.
"You might try to run from a Deputy Sheriff, but you will only go to jail tired, and in this case wet too, and with more charges," said Sheriff Staly. "Sad to see it was a family trip to jail before Thanksgiving but at least they might be home together for the holidays."
To view body cam of McGraw's arrest: https://bit.ly/46krvJS