Late Monday evening, Sheriff Rick Staly conducted a traffic stop on a Chrysler van in the area of SR-100 W and County Road 55 in Bunnell for passing two cars on a double yellow no-passing zone. The vehicle did not immediately pull over but after the Sheriff activated his siren, the driver eventually stopped. Inside the vehicle were a total of six occupants, including the driver.
The driver of the vehicle had no identification and provided several false names to Sheriff Staly. Sheriff Staly then requested a backup unit and a Rapid ID unit. Rapid ID enables FSCO to conduct mobile biometric identification on the fly. Using this technology, it was determined the driver's real name was Gregory Bernard Shazel, Sr. who was a fugitive from Putnam County reference to Writ of Bodily Attachment – Child Support. It was also determined his license had been suspended since 2021. While waiting for Rapid ID to identify Shazel, Sr. he admitted to Sheriff Staly his real name, that he was wanted in Putnam County, and that his license was suspended.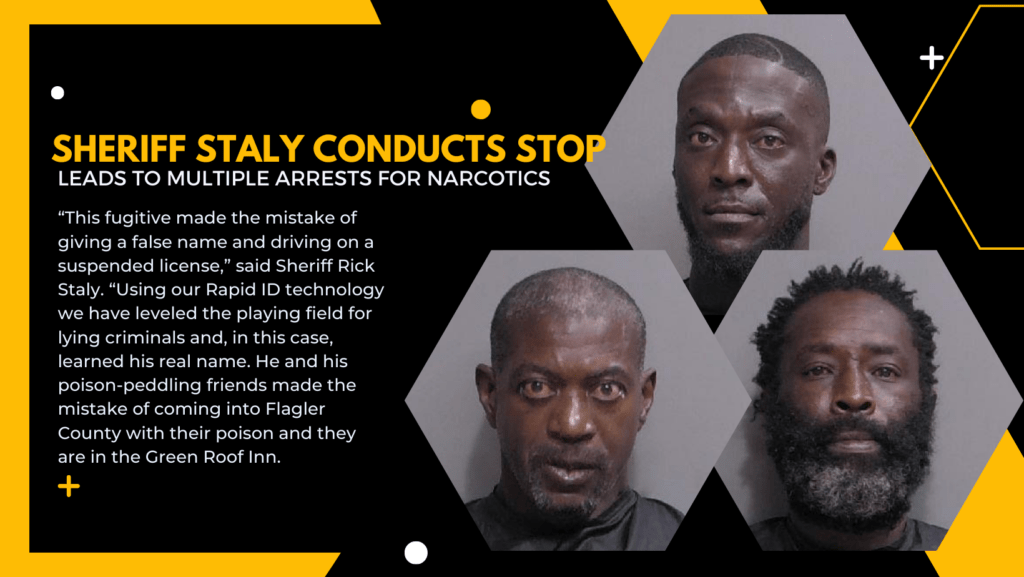 Shazel was arrested for his warrant along with Providing a False Name to Law Enforcement and Driving on a Suspended License. Sheriff Staly also issued him a citation for passing in a no-passing zone. He was transported to the Sheriff Perry Hall Inmate Detention Facility where he is being held without bond.
Following a probable cause search of the vehicle and the passenger's persons, backup deputies located several narcotics including fentanyl, cathinones, marijuana, and drug paraphernalia.
Passenger Robert Keeley was arrested for Possession of Fentanyl, Possession of Synthetic Cathinones with Intent to Sell/Manufacture/Deliver, Possession of Marijuana with Intent to Sell/Manufacture/Deliver, and Possession of Drug Paraphernalia. Keeley is being held on $13,500 bond.
Passenger Sherman Quinn Theodore Jones was arrested for Possession of Cathinones. Jones was released after posting $2,500 bond.
"This fugitive made the mistake of giving a false name and driving on a suspended license," said Sheriff Rick Staly. "Using our Rapid ID technology we have leveled the playing field for lying criminals and, in this case, learned his real name. He and his poison-peddling friends made the mistake of coming into Flagler County with their poison and they are in the Green Roof Inn. I also commend the deputies who assisted me in this traffic stop and narcotics investigation. They did a great job and together we got their poison off the street before it could hurt or kill someone."
To view video of the arrests: https://bit.ly/3u80Brj