Sheriff deputies and personnel representing 34 Florida Sheriffs' Offices graduated last week from the Florida Sheriffs Association's (FSA) prestigious Commanders Academy including Commander Bernard Woodward from the Flagler County Sheriff's Office. The Commanders Academy is an exceptionally informative and educational experience that is vital for the next generation of Sheriff's Offices public safety leaders. The Commanders Academy has become recognized as the premier course of executive study for mid to upper-level criminal justice leaders focused solely on the unique needs of Florida's Sheriff's Offices.
Commander Woodward is the Executive Officer for FCSO's Community Policing Division and has served since January 2004.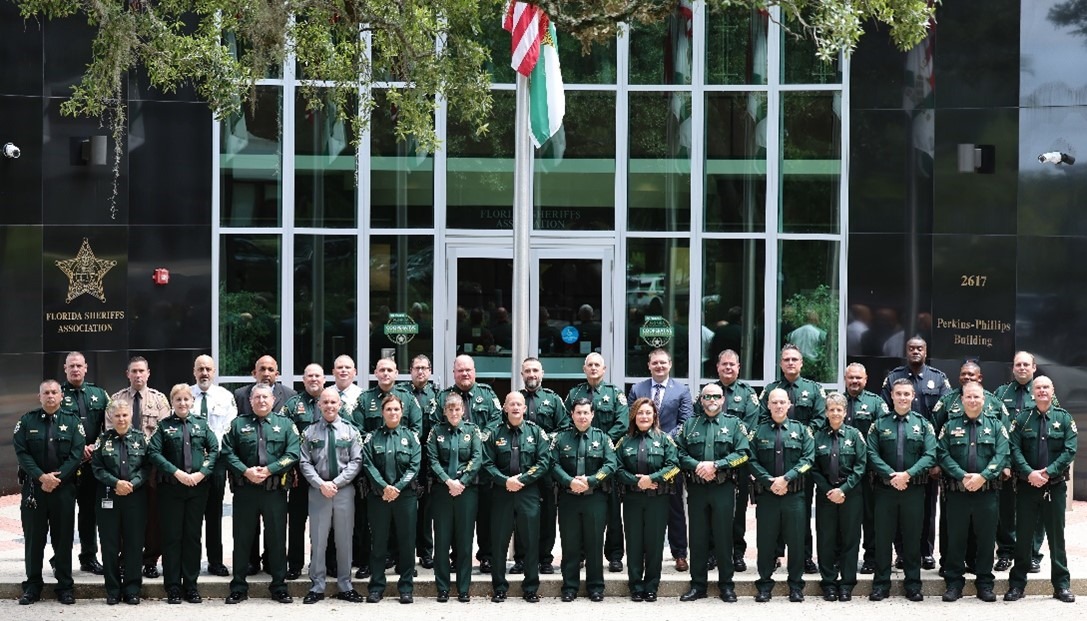 "I am proud of Commander Woodward's commitment to excellence," said Sheriff Rick Staly, Chair of the Florida Sheriffs Association Board of Directors and Flagler County Sheriff. "The leadership skills, problem-solving tactics and business ethics taught in the Commanders Academy help us to ensure quality service to the residents and visitors of Flagler County."
The core curriculum focuses on leadership, ethics, discipline, and additional subject matter areas related to upper-level leadership in law enforcement. The remaining curriculum is adjusted according to emerging trends and issues that have an impact on our sheriffs and recent high-profile events. Each topic is threaded with issues that are unique to the culture of the Office of Sheriff. Throughout the two-week course, the class hears from more than 50 presenters and panelists, many of whom are sheriffs. No other criminal justice program in the state provides this level of executive training.
"Today we celebrate the hard-earned success of the 2023 Commanders Academy graduates. These commanders have undergone rigorous training to sharpen their leadership skills, problem-solving tactics and business ethics," said FSA President and Nassau County Sheriff Bill Leeper. "Having fortified their capabilities, these leaders are now exceptionally well-prepared to set the precedent for protecting and uniting Florida's citizens and visitors."
FSA Executive Director Steve Casey said, "The Florida Sheriffs Association has long been committed to providing the most up-to-date training for Florida's law enforcement officers. Ongoing training offered through the Commanders Academy helps our officers adapt to changing circumstances and ensure that they uphold the highest standard of conduct and accountability. Commanders Academy graduates apply lessons from senior experts to real-world challenges, making Florida's sheriffs' offices the national standard for protection, leadership, and unity."
In addition to successfully completing the training course, Commanders Academy Class 13 also raised more than $28,000 for the Florida Sheriffs Youth Ranches. This generous donation will help support the mission of the Florida Sheriffs Youth Ranches in preventing delinquency and to develop lawful, resilient, and productive citizens.