This last weekend, Flagler County Sheriff's Office, made 17 arrests, handled 904 calls and made 179 traffic stops.
"Criminals think they can get away with crime on the weekend, but our deputies never rest," said Sheriff Rick Staly. "The welfare of our children is my top priority. Irresponsible parents will be dealt with to the full extent of the law whenever our children are hurt."
On Friday, FCSO deputies responded to the theft of a firearm out of the Palm Coast Pawn and Jewelry.  Shop employees stated that a man walked in and requested to see a firearm. He then took a bunch of cash tossed it on the counter and ran out of the shop and towards a wooded area on Palm Coast Parkway.  Two employees kept their eyes on the man, who was later identified as Justin Cloutier, and reported his whereabouts to Flagler County Communications who informed deputies in real-time. The man was detained by the two employees until the deputies arrived. The stolen firearm was found in the brush next to a pond. Cloutier was arrested and charged with Grand Theft of a Firearm. He was also determined to be the suspect from an earlier crime of vehicle burglary. He was charged additionally with Burglary of an Unoccupied Vehicle and Criminal Mischief. He is currently being held on a $36,000 bond.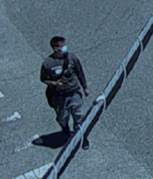 Friday, deputies were performing a welfare check on two young children at a residence on County Road 75. Someone reported to Flagler County Communications that narcotics were being used in the home, and there was concern for the children which included a one year old, who was supposedly kept in a room that was closed. Deputies found on arrival that the smell of trash and feces was incredibly strong, and in the home they noted rotten and uneatenood throughout the kitchen and a child sleeping in a bedroom they shared with the father, Brad Turner. The child was within reach of medication that was on the floor near the bed. In another room, they discovered the one year old child, who was not clothed, covered in feces and showing signs of malnutrition. Flagler County Fire Rescue came to the scene to check over the child.  Turner was arrested and charged with Child Neglect, and is being held on a $5,000 bond. DCF is assisting in the investigation.