I had the opportunity to meet with Erica Flores, who is the founder of Vincent's Clubhouse. We talked about her organization, her goals and dreams, and about the community and how we both have plans to make it better.
I asked Erica, how Vincent's Clubhouse came to be. She then dove into the story behind the organization. Her son was born in Halifax 15 years ago and they have lived here in Flagler ever since. He has grown up over the last 15 years in this community. He was diagnosed at age 3 with Autism. Erica told me the about how when he was a young child, post diagnosis, he wanted to go to summer camp with his cousins. But because of his autism, he couldn't go to the regular old summer camp, as many are not equipped to handle the extra care a child with disabilities needs. It was then that Erica decided to start her own summer camp for kids with disabilities, and Vincent's Clubhouse was born. It was officially founded in 2016, and it is a 501 c-3 organization here in Flagler County.
Vincent's Clubhouse hosts events on a regular basis, like the Easter egg hunt this last Saturday, a Valentine's Day dance in February, a bowling day in January, and an ice cream social in December. Every event by Vincent's Clubhouse is an all inclusive event and everyone is welcome at them.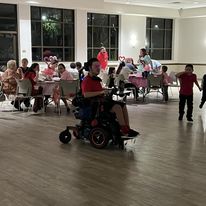 In addition to these fun events that they offer, Vincent's Clubhouse also offers a support group for parents and care-takers, every 4th Wednesday of the month at Moranda homes at 6:15 pm. Volunteer staff are on hand at this support group to help entertain children and people with disabilities so that the parents and care-takers can be involved in the support group.
Vincent's Clubhouse also partners with Flagler Schools to host an educational meeting ever 3rd Wednesday of the month where parents can come and learn about a myriad of subjects including dealing with behaviors and so much more. This is open to any kids, not just kids in public schools. This is another event that volunteer staff are present at to help entertain and watch the kids so that parents and care-takers can be present in order to learn.
They are also holding their first ever advocacy program this April on the 22nd. It is the first every Autism Awareness Festival and will be from 11 – 3 p.m. in Central Park at Town Center in Palm Coast.
Currently their main goal is fundraising to obtain their own building. All of the programs they offer are low cost or free, and the staff is all volunteer, so there is no major overhead in that regard.
When asked how the community can come together to help support Vincent's Clubhouse, Erica answered by supporting their events. That is one of the main ways the community can help is by supporting the events, sharing them on social media, helping, attending, spreading awareness. There will be a GALA event at Chanel Side this August 19th, 2023, from 7 pm to 11 pm, to fundraiser for the organization. Coming out to the GALA will be one of the biggest ways the community can support the event.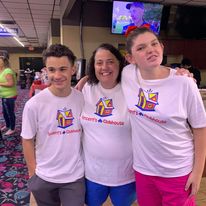 Some other ways that you can support Vincent's Clubhouse is by volunteering. They are always looking for volunteers be it to help with kids, or man a booth at an event.  If volunteering is not for you, you can always become an official sponsor of Vincent's Clubhouse by purchasing a sponsorship package from them.
Flagler County is a great community that always manages to come together when they need to, but we can always improve. Erica said, "We need more acceptance to disabilities in this community. It starts in schools, in kids, then to teens, and then employment and transportation." Erica said that she feels we can be more inclusive and that we can improve on the disability awareness of our community. The more inclusive we make it, the better and stronger we will be.
I asked Erica how she hopes to inspire the people of our community with her diligence and devotion to Vincent's Clubhouse. She said, "I want to show that every person has value, and can contribute. There is a place in our community for everyone. We can come together to include everyone in our community. Our differences and diversity makes us stronger."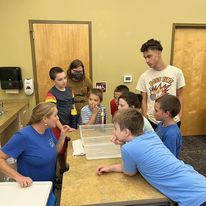 As far as moving forward with Vincent's Clubhouse, I wanted to know what the plans were for the future of the organization. Erica told me about the advisory council that they have, which consists of a group of experts in their field, including one Dr. Timothy King who was the former ESE director of Flagler Schools, and many others.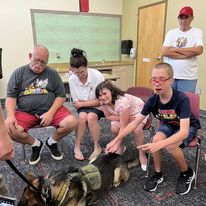 They are working together to form a curriculum for the Vincent's Clubhouse Certified Autism Friendly Business Program.  This will be a free program and Vincent's Clubhouse will partner with any willing business to provide training to staff and the business as a whole on how to recognize and handle disabilities. This will benefit businesses and the community, because businesses will be able to advertise their certificate showing that the business and it's staff has been educated on recognizing and handling disabilities.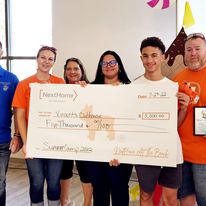 Vincent's Clubhouse is also working on implementing programs for young adults with disabilities. Currently there isn't much for young adults after they age out of the school system, so Vincent's Clubhouse is starting a program called beYOUtiful Ladies Club. This program will eventually be expanded, but for now it is only for women 22 and over with autism and other disabilities. This is going to be a monthly event, and the first ever social event will be May 12th.
For more information on Vincent's Clubhouse and everything they do, visit https://vincentsclubhouse.org