Today's 'Egg'stravaganza at Town Center in Palm Coast, was deemed a success as the city and vendors handed out over 20,000 eggs today.  All kinds of vendors were set up along the pathways at Town Center Park in Palm Coast. Churches, non-profits, government agencies and more lined the pathways with food trucks set up behind them.
Vendors not only handed out eggs, but many vendors had games and other activities for the kids to partake in. Kids were motivated to partake in the activities at booths with the promise of an extra egg or two. Lines formed at many booths, because kids wanted to play the games.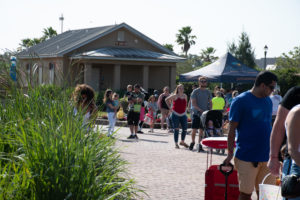 The games ranged from corn hole, sack races, to making bunny masks, with many activities for kids including a pirate ship to explore. Parents were able to get photos of their kids at a photo op area that was set up to provide for some cute Easter themed photos.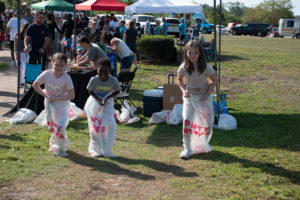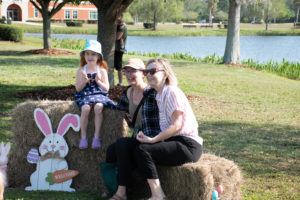 Some of the non-profits in attendance today were Seawolf Privateers and BACA, Bikers Against Child Abuse. They had booths with activities for kids, as well as eggs to hand out. The pirates had games as well as a pirate ship that kids were able to explore and have photos taken on.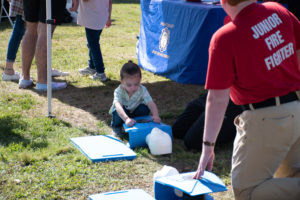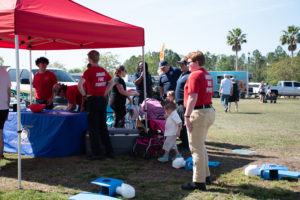 The Flagler County Sheriff and the Jr. Firefighters were also in attendance along with the Flagler County Elections office and the City of Palm Coast. The Jr. Firefighters were out at their booth teaching kids and adults about CPR on some CPR dummies.
This is a great family friendly event, that has no admission fees, no parking fees, and has many activities for the families with younger kids. It is a great location to have some fun and collect some Easter eggs, and other items.  This is an annual event that is hosted by the City of Palm Coast. Mark your calendars for next years 'Egg'stravaganza.