The FCSO had a busy weekend this last week. They made 17 arrests, handled 891 calls, and made 184 traffic stops.
"St. Patrick's Day weekend brought a lot of people to the Green Roof Inn where orange became the new green for them," said Sheriff Rick Staly. "Great job by deputies who utilized an agency-issued drone to locate a suspect hiding in the woods in the middle of the night. I also commend the child who did the right thing to call us in a domestic violence situation. It took bravery and knowing what to do to help prevent a more serious incident."
Two of the arrests made over this weekend. The first was on March 18th, there was a call for a domestic-related disturbance. Law enforcement was called to the scene of a home on Presidential Lane by a child. Once deputies arrived, a man, Lisco Hogg, fled the scene on foot; Corporal Smith used his Forward Look Infrared to find the mans wallet in the wood line, which lead deputies to Hogg's location.
Hogg was arrested and charged with felony Battery – Domestic Violence, Child Abuse, Tampering with a Victim/Witness and Resisting Arrest Without Violence. He was later released after posting his $17,000 bond.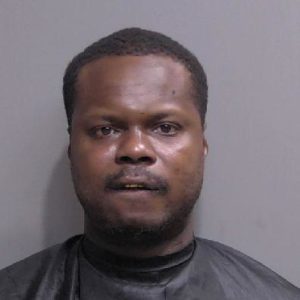 Sunday morning, FCSO deputies made a traffic stopped a bicyclist who was riding with no headlight. The man fled deputies, until he had some mechanical issues. The man then fled on foot into residences on S. Bacher St. in Bunnell. Deputies Gaddie and Huzior were able to find and arrest than man, who was later identified as Marcell Spearmon.
Spearmon had three outstanding warrants out for his arrest. The First was a Flagler warrant fro Battery DV – Strangulation and Tampering with a Victim/Witness and Criminal Mischief. The second was a Flagler warrant for Writ of Bodily Attachment in reference to Child Support. There was a third Volusia County warrant for Writ of Bodily Attachment regarding Child Support as well.  He is currently being held on a $10,140 bond.