Assistant City Manager Lauren Johnston welcomed those in attendance to the 2023 Palm Coast State of the City Address at the Palm Coast Community Center on Thursday, February 9 at 5:30 pm. The pledge of allegiance was recited, followed by the singing of the National Anthem by Melanie DiMartino.
Lauren welcomed local elected officials and dignitaries in attendance which included Mayor David Alfin, Vice Mayor Ed Danko, City Council Member Theresa Carli Pontieri , City Council Member Nick Klufas,  Former City Council Member Dave Ferguson, Commissioner Andy Dance, Commissioner Dave Sullivan, County Administrator Heidi Petito and Bunnell City Manager Alvin Jackson.
She then welcomed City Manager Denise Bevan to the podium for opening remarks of the presentation. "In the daily bustle of our lives, it is easy to take things for granted," Denise said. "Things like clean water being accessible at the turn of a faucet, traffic signals that promote safe travels along our roadways, or having emergency medical services answering your call should you ever dial 911. Most of these critical services are exactly what Palm Coasters have come to accept and we continue to deliver. We want our residents to only focus on living and loving our beautiful Palm Coast and not worry about services."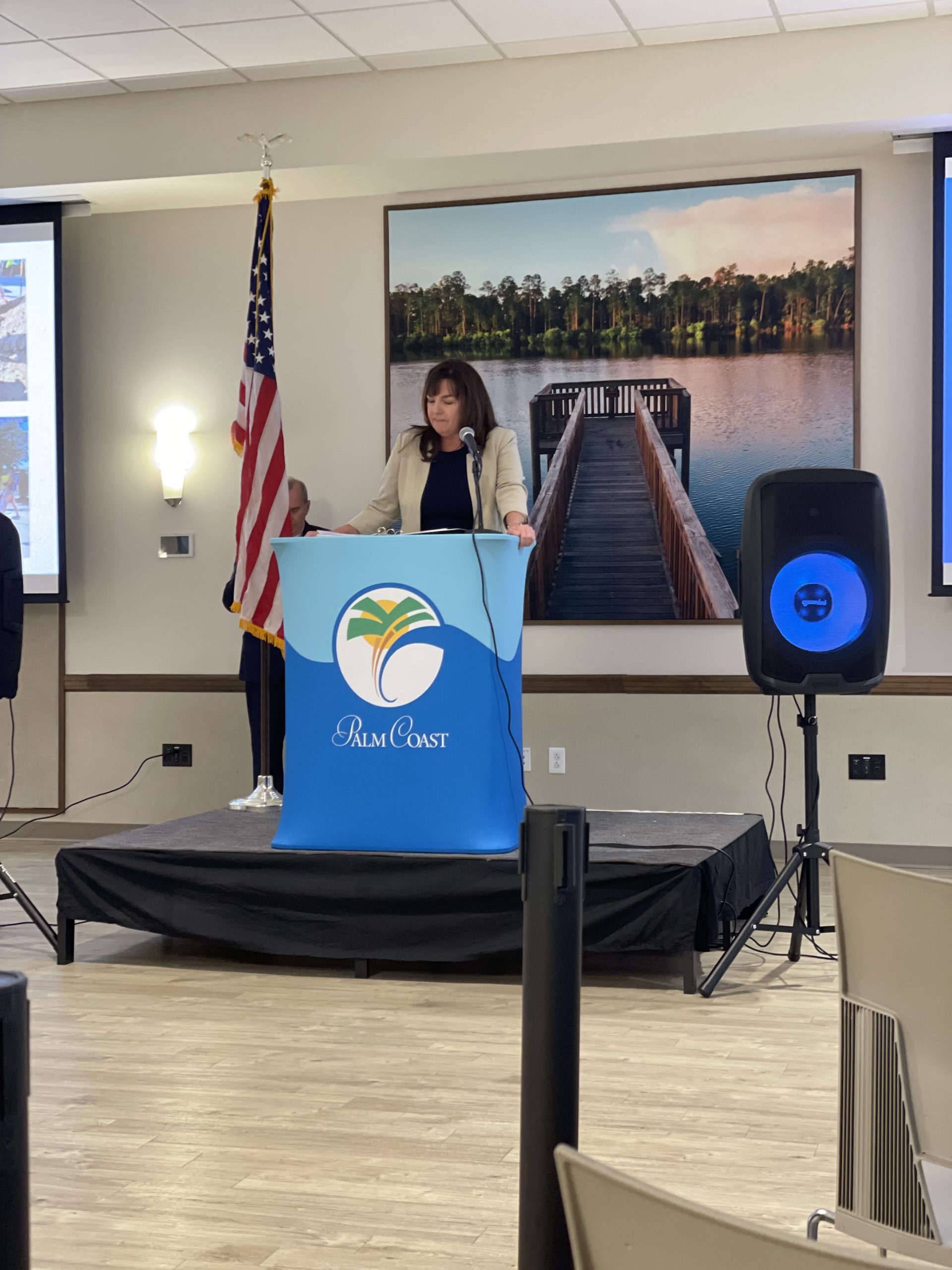 An informational video clip featuring Vice Mayor Danko and city council members focused on thanking the 600+ city workers for their hard work and dedication in addition to the invaluable input from residents in a collaborative effort in planning and building the future of Palm Coast together.
Denise introduced Mayor David Alfin to the podium. He reiterated the theme of the evening, "Now is the time to unite and share in the creative process while we plan and build our future together." The collective collaboration between residents, city staff and elected officials was highlighted several times throughout the presentation.
Another informational video clip featuring Assistant City Manager Lauren Johnston and City Manager Denise Bevan highlighted shared legislative priorities such as safety through smart growth, community resiliency initiatives and more. The Flagler Crisis Communications Team was formed in 2022. The objective of the crisis team is to keep residents informed in the event of an emergency or severe weather event. Chief Berryhill and Flagler County Sheriff reiterated the importance of this communications team and its invaluable efforts during the storms of 2022.
Mayor Alfin stated that the relationships with Flagler Beach, City of Bunnell and Flagler County are united and strong. In 2022, Palm Coast and Flagler County aligned their legislative priorities which include public health safety, community resiliency, infrastructure, conservation, and open space. 
Hurricanes were another priority in 2022 as our area sustained damage from both Hurricane Ian and Hurricane Nicole. Mayor Alfin briefly spoke on the teamwork and efforts between the Public Works Department, Storm Water and Engineering Department, Utility Department, and Fire Department as they joined together for an "all hands on deck" approach during the recovery efforts following the storms.
Kathy Picano with the Stormwater and Engineering Department and Travis Sabatini with the Utility Department were featured in an informational video clip regarding the improvement and updates within the city's framework. They spoke on enhancements to Belle Terre and Florida Park drive during 2022. Upcoming enhancements for 2023 scheduled for resurfacing and remilling include Belle Terre, Seminole Woods Blvd, Sesame Blvd and Easthampton Blvd. 
Parks and Recreation spokespersons Brittany McDermott and Eric Gebo highlighted the large scale enhancements underway for 2023 which include the opening of AdventHealth on Palm Coast Parkway, Improvements at Waterfront Park, Improvements at Lehigh Trailhead and the groundbreaking and build of the Southern Recreation Center.
Mayor Alfin debuted plans for the 'Westward Frontier Expansion' which will expand Palm Coast west of US 1. He also encouraged citizens to attend meetings and complete surveys pertaining to future planning of Palm Coast in regards to buildings and expansions.
The presentation continued with three citizens awards for Palm Coast citizens that stood out in 2022 for outstanding contributions to our community.
The Public Service Award was awarded to recently retired Fire Chief Jerry Forte. He dedicated 32 years to serving the city's fire department. He retired in 2022.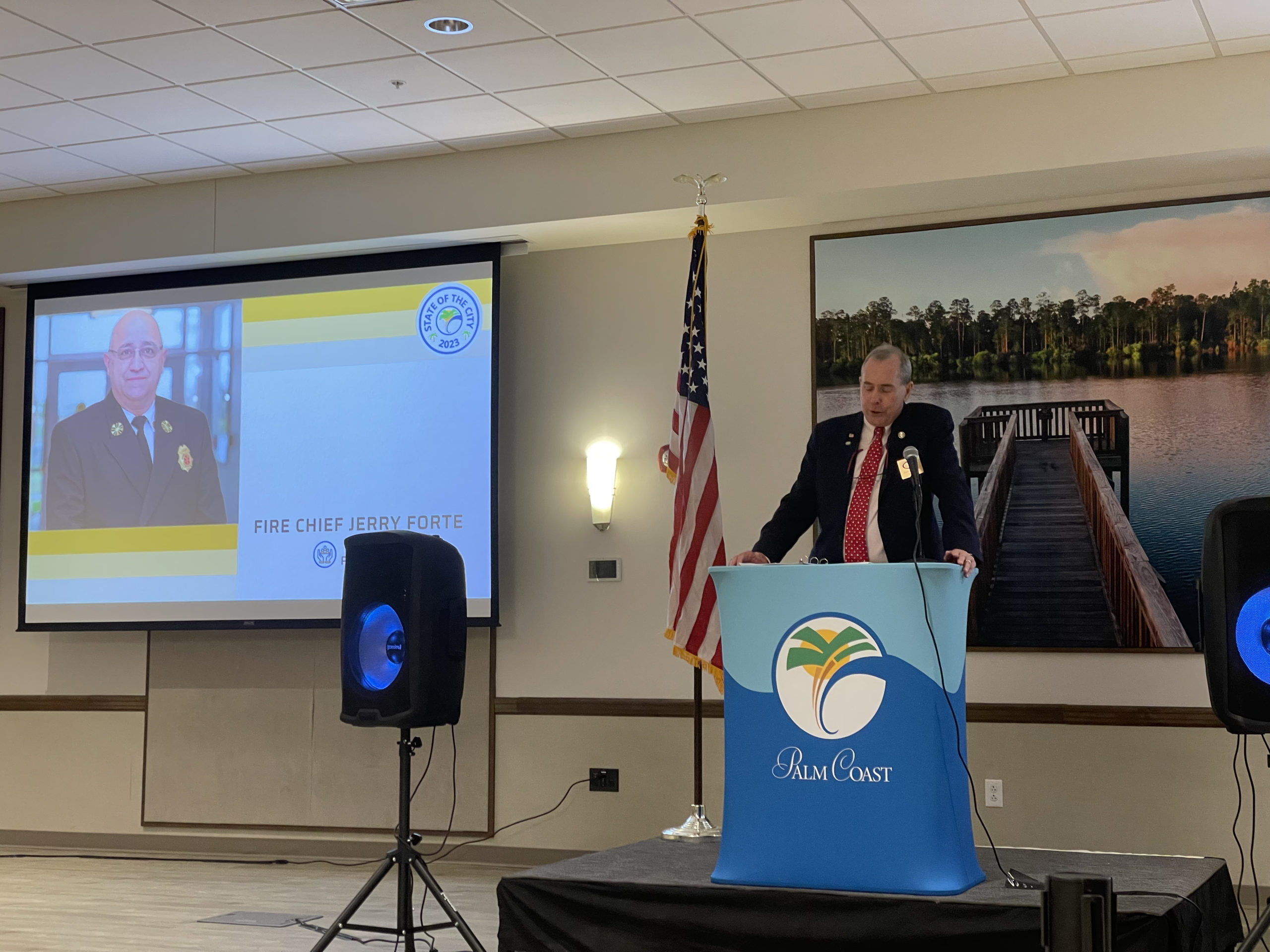 The Citizen of the Year Award was awarded to Pastor Charles Silano. His contribution to the community with Grace Community Food Pantry and initiation of the food-a-thon that raised over half a million dollars in 2022. The Grace Community Food Pantry serves 3,500 Flagler County residents each month. Charles was not in attendance to accept the award and will be given the award at a later date.
The Next Generation Award was awarded to Emma Stanford who created a non-profit organization, Emma Love K9s Inc, which raises money for K9 handlers to cover fees once they adopt a retired K9.
The presentation wrapped up with Mayor Alfin once again commending the 600+ city workers and thanked them for their efforts on a successful year in 2022.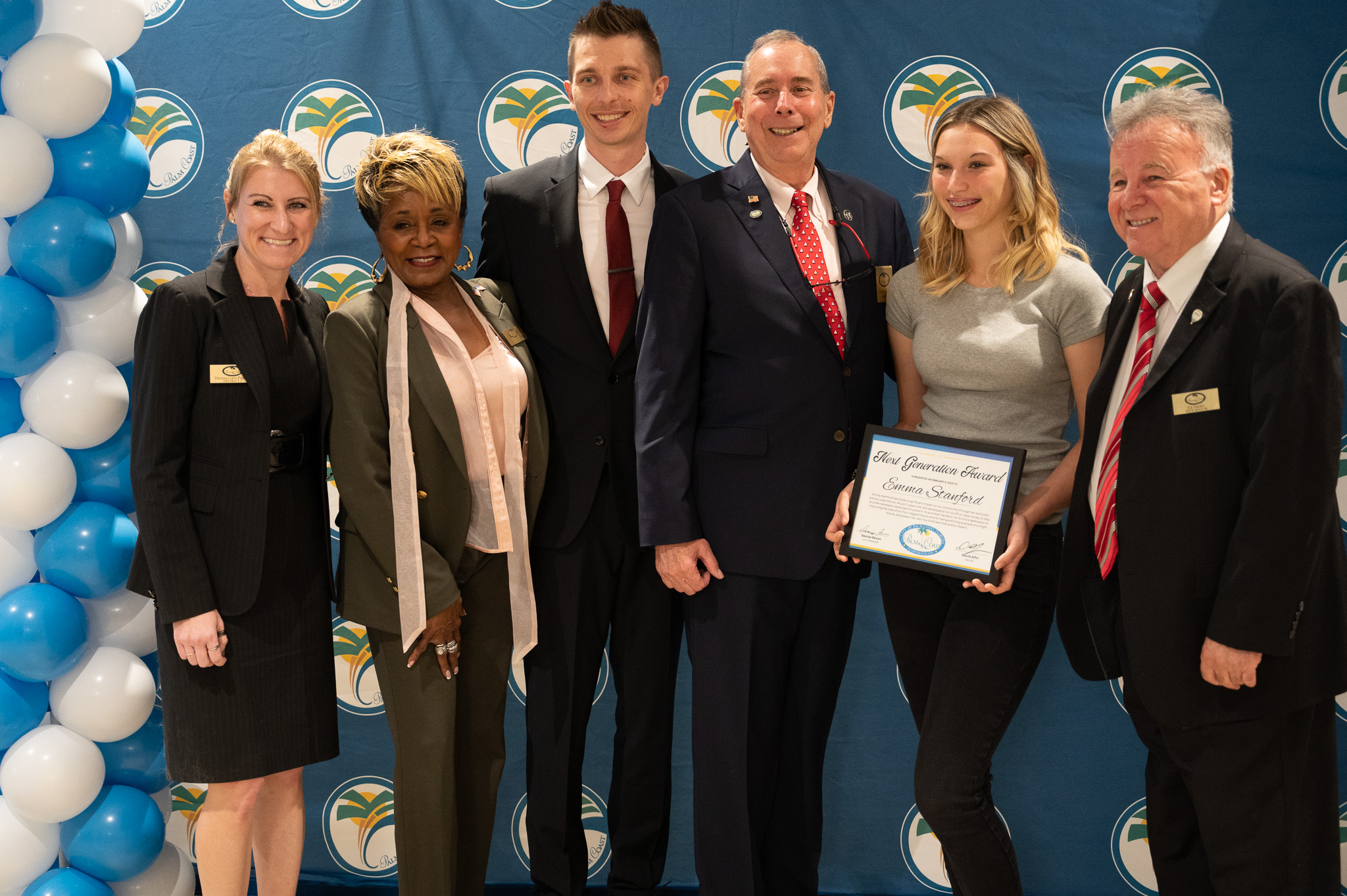 To watch the Annual State of the City Address 2023, click here.